Trainings and Workshops
EDUCATION FOR THERAPISTS AND WORKSHOPS FOR PROFESSIONALS
Stress Management Workshops for Professionals
High-performing professionals such as (attorneys, medical doctors, and executives) must cope with elevated levels of stress and are prone to burn-out, in addition to mental health challenges like anxiety, depression, and trauma.
As mental health professionals, we can provide you with tools to help you cope with the unique challenges of your job. We know that sometimes external changes (fewer demands, greater pay, more time off) are not possible. We want to empower you to improve your quality of life and more fully connect with your deepest values.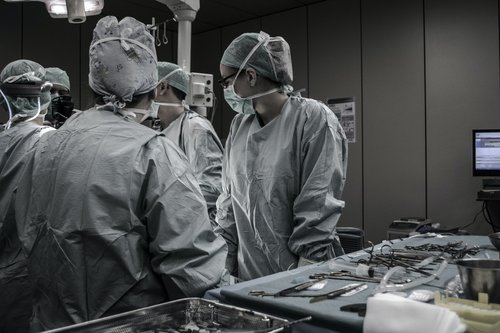 Increase your productivity with stress management training tailored to your needs. Cope more easily with heavy workloads, demanding expectations and the daily dramas that cause stress and burnout. Ideal Attendees:
Managers.

Professionals who are in high pressure or high exposure roles

Professionals who work in environments where expectations are high and resources to meet them are scarce.

Professionals who work in environments and industries where there are inherent frustrations.

Professionals who work with customers or the public.

Professionals who need to effectively control their emotions to be successful.

Service professionals, sales professionals, and customer service representatives.
Workshops and Trainings for professionals can help increase productivity, overall health and well-being.
Upcoming Trainings
Managing Stress and Burnout for Legal Professionals
Lisa Oland, LPC will be facilitating two parts of an experiential stress management series that are geared toward helping attendees in the legal profession manage stress. Lisa's knowledge of legal professional's role comes from her previous position working as the mental health court liaison for Lane County Treatment Court. She has also worked as a counselor for a number of legal professionals, and has heard first hand the types of struggles judges, prosecutors, and those in private practice face. In this two part workshop series, she will teach and demonstrate evidence-based skills, using specific stressors she has heard about from legal professionals she has worked with in therapy and in previous workshops.
In Part One, Lisa will provide education about the Cognitive Behavioral model, the body's response to stress, the ways Core Beliefs form and keep people stuck in unhelpful cycles, and teach attendees how to identify their deepest values. She will have attendees practice these new tools when discussing and working on their current stressors.
Part One dates:
Friday, March 18, 2-5 pm »
Friday May 13, 2-5pm »
November 18, 2-5pm »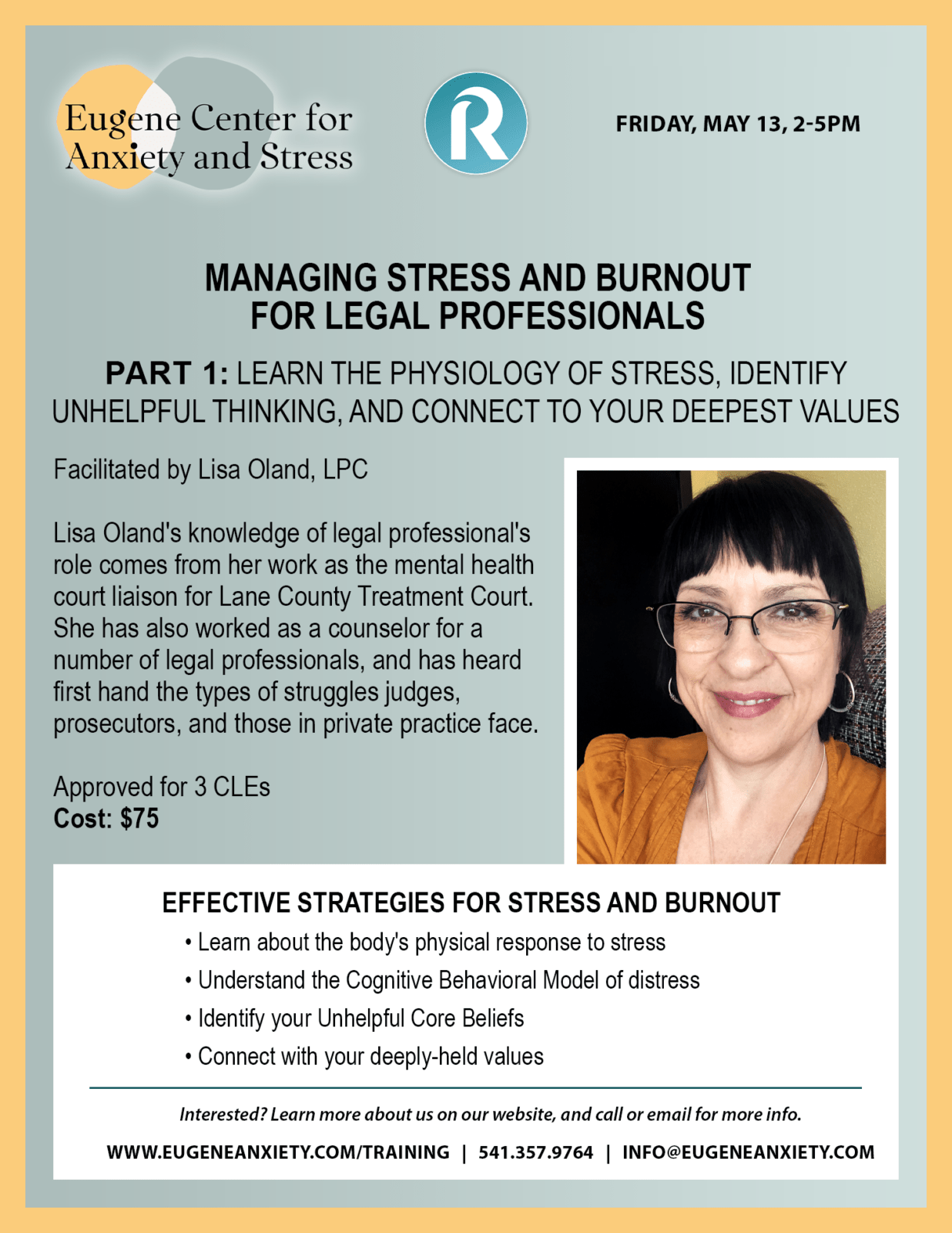 In Part Two, Lisa will provide education about the attachment and compassion system and research that shows how it buffers stressful events. From this empirical data, she will provide nonviolent communication skills for improving interpersonal effectiveness and boundary setting, and show how self-compassion principles can provide resiliency in the face of mistakes and challenges. Similarly to how Part One is structured, she will have attendees practice these new tools when discussing and working on their current stressors.
Part Two dates:
Friday July 15: 2-5pm »
Friday September 16: 2-5pm »