Get Help
DEDICATED TO HELPING YOU OVERCOME DIFFICULTIES TO LIVE A FULLER, MORE MEANINGFUL LIFE.
Individual Therapy
Most clients of our clinic receive treatment with individual therapy. Generally, clients attend weekly sessions with a therapist who is matched to you based on your presenting concerns. If the clinic or therapist is not a good fit, we make a referral to the appropriate provider. Clients to the clinic generally meet with a therapist weekly for 18-25 sessions, before tapering to less frequent sessions and ending treatment within a year. This short-term model requires clients to be focused on learning skills, engaging in assignments in between sessions, and communicating with their therapist about their progress.
ECAS uses evidence-based approaches – below is a list of therapies used by our staff for different presenting concerns.
Exposure Therapy: Learn to Overcome your Fears
Exposure Therapy is the treatment that works the best for most types of anxiety. Confronting fears and obsessions while approaching them in new ways that increase confidence are effective for a range of anxiety disorders, including fears of specific situations (including flying, needles, driving), Obsessive Compulsive Disorder (OCD), Panic Disorder, Social Anxiety, and Posttraumatic Stress Disorder (PTSD).
Cognitive Behavioral Therapy: Learn to Alter Beliefs and Thoughts That Hold You Back
Cognitive Behavioral Therapy helps you develop new ways of evaluating the thoughts and beliefs that keep you stuck in the same habits. It helps you increase your awareness about how the way you think impacts how you feel and act. Through awareness, you can begin to make different choices that are based on your deepest values instead of your fears.
Acceptance and Commitment Therapy: Learn Acceptance and Mindfulness Practices To Roll with Life's Punches
Sometimes, changing thoughts and behaviors do not account for really difficult life events. Acceptance and Commitment Therapy (ACT) teaches how to listen to your experience and practice acceptance and mindfulness to commit to making your most important life commitments.
Self Compassion Therapy: Learn To Listen To Yourself and See Your Difficulties With Kindness
Humans are often given messages that we should "suck it up" and move on, and are taught that having emotions make us weak or too sensitive. This leads us to respond to life difficulties and mistakes with anger, judgement, and cruelty. Self-Compassion Therapy helps you counteract these tendencies by learning to respond to challenges with kindness and caring when you need it the most. Research shows this makes us more effective, less stressed, and more resilient to life events.
Gender Affirming Services
At ECAS, we celebrate the full spectrum of gender identities. We provide affirming therapy to gender diverse individuals, including those who experience gender dysphoria. For those who experience gender dysphoria, therapy is focused on helping to bring one's gender expression in line with one's gender identity. Our Gender Support Services team includes clinicians with expertise in providing evaluations and letters of support to individuals who are seeking gender-affirming hormone therapy and/or surgeries. Ongoing therapy is offered, but not required, to receive an assessment.
Psychological Assessment
We do a wide range of psychological evaluations. The goal of an assessment is to help identify personal strengths and challenges, identify personalized recommendations, and describe possible accommodations. Our most common evaluations are for ADHD, Autism Spectrum, Specific Learning Disorders, and Psychological Clarification.
Group Therapy
Groups offered at ECAS are generally educational in nature, built to give clients additional tools for managing mental health. Groups provide a shared experience with others who are experiencing similar difficulties, helping to decrease stigma and self-blame. The group context can be very powerful, helping group members feel less alone in their struggles and providing an extra dose of motivation to make difficult changes. 
Description of our upcoming group is below:
5-WEEK Adult Telehealth Therapy Group – TBA, depending on enrollment
– Mondays from 5:30pm to 6:45pm
Group Name: Managing Anxiety Through Wisdom and Compassion
Facilitated by Mike Unger, Ph.D. and Lisa Oland, LPC
The purpose of this five-week group is to empower participants with a variety of coping skills to more effectively manage anxiety. This is an interactive experience and active participation is expected during each group session.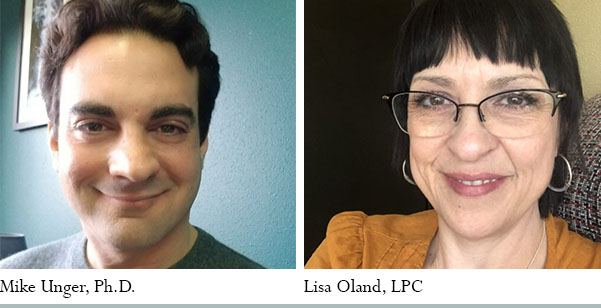 Specific topics covered in the group include:
– Disengaging from unhealthy thinking patterns
– Utilizing reappraisal and coping statements
– Learning mindfulness techniques (which includes meditation)
– Practicing self-compassion
– Identifying values and self-care practices
In order to benefit from the experience, participants will be asked to:
– Be open to learning new approaches that may feel unfamiliar.
– Practice and apply skills learned in the group in between sessions
– Attend all five sessions
– Have an adequate internet connection to allow for full engagement each week.
Participants MUST attend the first session and may be excused from other sessions in cases of emergency (like urgent health problems, unexpected events, etc). If potential participants know in advance that they have other appointments or obligations at the time the group is scheduled, they would be expected to reschedule them, or decide to sign up for another group session when they have full availability to attend.